free translation
WELCOME TO THE
HOSANNA HOTEL

HOTEL INFORMATION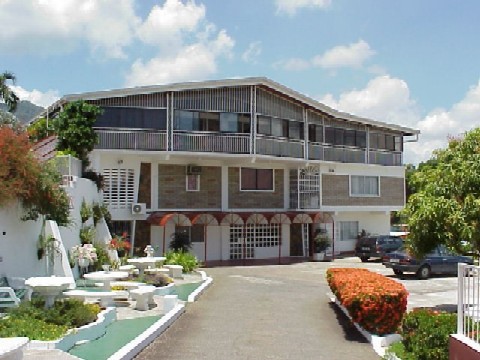 TRINIDAD AND TOBAGO is a Paradise and in the midst of such a Paradise, IT MATTERS WHERE YOU STAY!!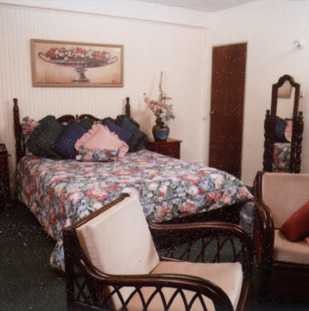 With HOSANNA HOTEL as your accommodation destination, you are conveniently placed within 5 miles of the Piarco International Airport to the east and 10 miles of the capital city of Port of Spain to the west.

HOSANNA HOTEL has the distinction of being the ONLY smoke-free, alcohol-free hotel in the nation. Our premises are located within the peaceful Santa Margarita district of the university suburb of St. Augustine within walking distance of the Hugh Wooding Law School (HWLS) and a short drive from The University of The West Indies (UWI). Nestled in the foothills of the northern range of Trinidad, lush greenery surrounds us.

The hotel premises comprise 18 Units - 15 guest rooms and 3 suites - each of which has been designed for the comfort of our guests. Free wireless Internet, air-conditioning and cable television provide our guests with an even more relaxed ambience.





EXPERIENCE THE PEACE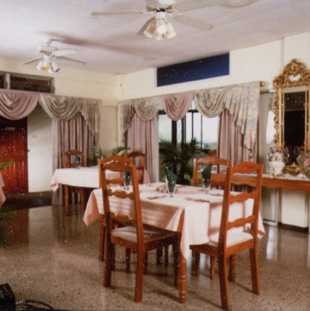 For those who rise early, our Hosanna Breakfast (or a Continental Breakfast for light eaters) is a must! Our Restaurant, situated on the top floor of the hotel, serves up a variety of Caribbean cuisine to satisfy even the most discerning palate.

We suggest that you rise early enough or make a special request of our restaurant staff to get a seat on the restaurant patio. The patio overlooks the hotel forecourt and gardens giving you a panoramic view of central and southern Trinidad. You are guaranteed a front row seat as hummingbirds and other tropical bird species flit to and fro in the morning sun!

Clean, comfortable and FREE from Tobacco and Alcohol, the premises of HOSANNA HOTEL are renowned locally for the prevailing atmosphere of PEACE which signals the presence of Jesus Christ, for whose glory we serve you.

And it is our desire for YOU to experience and to enjoy that same PEACE while you are in our islands. For that reason, we make your comfort and convenience our TOP priority. As a guest of HOSANNA HOTEL you can opt to dine in the restaurant or may request room service. For those with an early appointment or flight plans, our Front Office provides a Wake-up call service; and access to the main road from our secluded location is easy with the provision of Taxi services to any part of the island.

Newcomers to Trinidad and Tobago need not worry as our friendly and efficient personnel are always available to assist you with information and planning Tours within Trinidad and can assist you with travel, accommodation, car rental and tour arrangements to and within Tobago as well. Please view our T&T Photo Album for photos of beautiful Trinidad and Tobago. Some places, like Mount St. Benedict, Maracas Waterfall and Caroni Bird Sanctuary are minutes away from Hosanna Hotel.

Whenever you need to mix business with pleasure, HOSANNA HOTEL offers High-Speed Internet Access and Conference facilities equipped with track lighting, white board and multimedia projector.

Our Accommodation Rates (EP) for guest rooms and suites, meal-inclusive romantic packages and other specials are all affordably priced. Guests may pay for hotel services using a major credit card (we accept VISA, MasterCard and American Express) as well as US travellers' cheques and US and Trinidad and Tobago Currency.

Why not make Trinidad and Tobago YOUR vacation destination? To commence your vacation experience at Hosanna Hotel please proceed to Check Our Availability and Rates for the dates of your intended stay with us. And when you make your reservations with us remember to Book a Meal Package, Airport Transfers or other extras all at affordable prices. You will have an opportunity to select one or more of these services when you make your reservation via our Online Reservation Page.

Please note that we operate a secure server on our Online Reservation Page. However, for those who prefer not to enter their credit card information online, we encourage you to contact us by telephone or fax at 868-662-5449 to give our friendly Front Desk staff the relevant reservation and credit card information in order to make and confirm the reservation. Remember, we accept VISA, MasterCard and American Express credit cards as well as US travellers' cheques and US and TT Currency.

We cordially invite you to "Come Apart To Our Quiet Place And Rest A While" and enjoy the warmth and splendour of a unique 'Twin-Island Vacation'.

May God richly bless you!




The Christian Hospitality SiteRing

This site owned by
Hosanna Hotel
SiteRing by Bravenet.com




Hosanna Hotel
Santa Margarita Circular
St. Augustine, Trinidad, W.I.
Phone: (868) 662-5449
Fax: (868) 662-5451
Contact: Click link to email us