free translation
WELCOME TO
TRINIDAD & TOBAGO

TWIN-ISLAND PARADISE
Daydreaming of a Caribbean vacation? Well then, Come Apart To Our Quiet Place at HOSANNA HOTEL and experience TRINIDAD AND TOBAGO!!!

The most southerly of the Caribbean isles, situated approximately 7 miles off the coast of South America, the twin-island republic of TRINIDAD AND TOBAGO is blessed with a warm, tropical CLIMATE with average daytime temperatures of 29 degrees Celsius (83 degrees Fahrenheit). Although the islands are just outside of the hurricane belt they receive regular showers of rain throughout the months of June to December. The months of January to May are comparatively dry with short bursts of rainfall during the afternoon periods.

The Eco-systems of our islands are as remarkable and diverse as our population and are a legacy of the history of the islands as once having been a part of the South American mainland. The topography of our islands is a mixture of mountainous rainforests, mangrove swamps and rivers, tropical savannahs and sun-kissed seashores. When you take the time to DISCOVER TRINIDAD AND TOBAGO you will realize that, together the islands are home to over 430 species of birds, 620 different species of butterflies, 2300 different flowering plants and shrubs, 100 different mammals and 70 different reptiles.

Some interesting wildlife reserves and eco-destinations within the islands are Asa Wright Nature Centre, Pointe-a-Pierre Wild Fowl Trust, Caroni Swamp, Saut d'Eau, Nariva Swamp and Aripo Savannah (in TRINIDAD) and Buccoo Reef, Main Ridge and Little Tobago Island (in TOBAGO).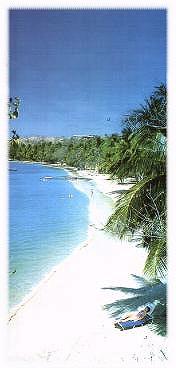 Apart from our wonderful eco-tourism sites, you can experience the beaches, watersports, events, festivals and cuisine of Trinidad and Tobago. Indeed, there is much to see and to do in our islands. So take your time and enjoy every moment of your stay here.

And while here enjoy the taste of our islands' diverse Cuisine. Roti (an East Indian delicacy), Pelau (a Creole dish) and 'Bake and Shark' (a staple on the popular Maracas beach along Trinidad's north coast) and 'Crab and Dumpling' (a Tobago dish) are just a few of the more renowned treats in store for the hungry and adventurous traveller.






THINGS TO REMEMBER

For immigration purposes, ALL visitors to the islands require a valid PASSPORT or other travel document. VISAS are not required of visitors from the United States, Canada, the UK and most European countries. However, visitors from Australia, Papua New Guinea, Sri Lanka, Tanzania, Uganda, Mexico, Cuba, Nigeria and several other nations should obtain a visa before travelling to the islands.

CHRISTIAN MINISTERS who visit our islands to minister the gospel must be issued with 'missionary permits' from the Ministry of National Security. Applications for such permits are usually made by the local church through which the ministers will be visiting our islands.



For couples planning a DESTINATION WEDDING, a Marriage Licence can be applied for after seven (7) days residence in the islands. Alternatively, a Special Marriage Licence may be applied for after only 3 days residence in the islands. Required documentation includes valid passports, return airline tickets, birth certificates and where applicable, a marriage certificate to a former spouse and the decree absolute of divorce from that spouse OR a death certificate in respect of the demise of the former spouse.

TRINIDAD AND TOBAGO's dollar floats against other currencies. Daily exchange rates are available at banks and regularly published in the local newspapers. At most business places within the islands the United States dollar is usually accepted in exchange for goods and services. Most major credit cards (e.g. VISA, MasterCard, American Express, Diners Club) are widely accepted at hotels, restaurants and stores.

Many of the islands' roadways are well paved and DRIVING IS ON THE LEFT, with most vehicles being right-hand drive. A valid international driving permit or a valid driving permit issued in the USA, Canada, the UK, Germany or France is required for cars and motorcycles and can be used for 90 days.

General AMENITIES such as electricity (110 and 220 volts, 60 cycles), potable water, telecommunications, health facilities and paved roadways exist in most parts of the islands. More rural areas are in the process of being developed.

For more information on our islands please check the Tourism Development Company Limited Events Calendar or visit the web site for TDC. To catch up on the LOCAL NEWS online visit the website for the Trinidad Express Newspapers.

Before you go, create and send a beautiful Tropical E-card to someone you know. It's fun; it's easy and, best of all, it's FREE!!!





Hosanna Hotel
Santa Margarita Circular
St. Augustine, Trinidad, W.I.
Phone: (868) 662-5449
Fax: (868) 662-5451
Contact: Click Here To Contact Us